THE TRUTH ABOUT LUV
If luv is like a bed of roses
What smells so sweet and pure,
Why's it so,
To make them grow,
Roses need manure?
(Johnny Worms – delving deep where others merely scratch the surface)
"Glorious… This book is terrific. More, please." Adele Geras, TES
"It's like Adrian Mole but dafter… You'll luv it!" The Times
"Genuinely funny… sparklingly well-written." The Independent
"Hilariously Funny" The Times
JOHNNY WORMS is a fourteen year old boy who has an eye for the girls. Unfortunately the girls don't seem to have an eye for him.
ON THE IMPORTANCE OF NAMES
The name what bowls the ladies over
Is the one of Casanova.
I wonder if the name of Worms
Makes the ladies think of germs?
(Johnny Worms – in the middle of an identity crisis)
So he changes his name to CASANOVA in the hope that it will change his luck, but it doesn't. Sex remains as elusive as ever. He has swallowed the image of a romantic lover as a caring, sensitive soul. He writes love poetry and learns the guitar to serenade the girls. He prinks and preens his sacred locks and dresses to kill, but can't pluck up the courage to ask a girl out. He's a mass of hormonal confusion, hopelessly in love with any girl who will give him the time of day. But it seems that the ones that do are never the ones he wants.
Like DEBORAH SMEETON (aka Little Miss Metalmouth) who wears a huge, unwashed orthodontic brace that snags JOHNNY'S tongue when she kisses him and gives him blood blisters.
ON DEBORAH'S MOUTH
I don't want, I don't want, I don't
want
To kiss her.
I do want, I do want, I do want
To miss her.
To start with, to start with
I can't kiss that face
'cause
I'd end up, I'd end up,
Stuck to her brace.
(Johnny Worms – for The News at Ten in Nightmare City)
Fortunately CECIL SIMPSON trails around after DEBORAH like a lost puppy desperate for her approval, and JOHNNY has a vested interest in match-making this pair, just to get DEBORAH off his back. JOHNNY loves ALISON MALLINSON, the beautiful ice maiden, but she loves TIMOTHY WINCHESTER who's built like a post-box and is already shaving.
ON KISSING ALISON
Soggy wet lips
with cold saliva on.
Soggy wet cheeks
All running with goo.
Soggy wet teeth
It sounds disgusting,
BUT,
If I have to have a kiss,
I hope it's with you.
(Johnny Casanova – the gigolo with the wigolo)
JOHNNY also loves BOSIE CRICKET, but she's a tease and is never as keen as she seems, and the PURPLE GODDESS, a pert, blonde-haired girl who cycles past him every morning on his way to school. He doesn't know her name, because he's too scared to talk to her, but she looks ravishing in her purple uniform and thick wrinkled tights.
In fact JOHNNY loves anything that moves and tosses him a casual glance. Even LUCY LOVETT, the original wild child, who's heavily into hospitals, truancy, shoplifting, smoking and drinking from cans on street corners. Even the GEESE a gaggle of giggly girls who hang around like Siamese sextuplets. He's a rampant adolescent who tries to be what he thinks the girls want him to be, instead of just being himself.
ODE TO TOADS
Toads is warty,
Toads ooze slime,
Toads is ugly
All the time.
So,
What is it that a toad possesses,
That brings it kisses from princesses?
I'm a boy with luvly hair,
They should kiss ME!
It just ain't fair!
(Johnny Casanova is 007 – Licensed to kiss)
He's himself with SAM SIDEBOTTOM though, the girl next door. She looks like a boy and JOHNNY confides in her like a brother, but she is a girl, and one day JOHNNY might find out that she loves him. He's himself with GINGER as well. GINGER'S his best mate, but GINGER is still into football and judo and thinks that girls are trouble, which is strange, because they all love him. He's forever trying to persuade JOHNNY to give girls up, but JOHNNY is a martyr to his urges and always disappoints. But you can't blame him. He's got GARY GRUNDLE'S reputation to live up to. He's the boy who's had sex, who's done everything Johnny wants to do, but GARY'S macho stories are probably hiding a deeper truth – like possibly he's gay. GAVIN DANSO'S not gay, but his voice hasn't broken yet which makes him a figure of fun. He looks up to JOHNNY and is so keen to please that he's always throwing parties at his house. But he's used. He's permanently disappointed, but daren't let it show.
MAKE ME PERFECT
Dear God, make me handsome
Dear God, clear my zits
Dear God, make me Mr Sex
Whom girlies love to bits
(Amen)
JOHNNY'S mentor is MR PATEL, the owner of the corner shop, with whom JOHNNY can have proper man to man chats, and with RANJIT, Mr Patel's 28 year old Nephew who runs a disco and a customised Nissan Bluebird. RANJIT is the epitome of cool as far JOHNNY'S concerned.
Back at home, JOHNNY'S mum and dad, TERRY and BABS are stuck in a stagnant marriage. TERRY makes expanding cardboard files in the shed at the bottom of the garden, where he also tends his train set. When he's not playing with his Diesels or painting his gnome collection, he's fighting petty battles with his next door neighbours, the nouveau-riche snobs, the SIDEBOTTOMS. BABS has had the spirit knocked out of her and is a cracked glass away from a nervous breakdown. She tries to keep herself looking nice for TERRY, but he doesn't notice. So she has an affair with STAN, TERRY'S bad brother, but he doesn't notice that either. JOHNNY notices his mum though, when she's embarrassing. When she's dressed up like a blousey barmaid, and opens that foghorn mouth of hers.
His big Goth sister, JULIET notices her mum too. She hates her for being her mother and has only got time for TONY, her monosyllabic boyfriend from the Black Lagoon. NAN lives in the attic and won't come out unless TERRY lays a trail of chocolate peanuts down the stairs. She stole a birthday card from WH Smiths in 1973 and has been in hiding from the police ever since. NAN'S a touch senile, but knows a thing or two about men and women, which sometimes proves useful to her grandson, JOHNNY. There's also a baby sister. SHERENE is seven years old and a right royal pain in the butt. She's a spiller of beans whenever Johnny wants to keep anything secret. And to cap it all, JOHNNY'S got a dog, an ancient bloodhound calledPONGO with Leaky Bowel Syndrome and farts that can clear the breakfast table at fifty paces.
ON PONGO AND LUV
Luv unlike a doggy smell.
Which follows you and makes life hell,
Is really quite a luvly thing,
It makes you want to talk and sing.
The other thing on which to touch
Is why girls luv me so very much.
I think it's 'cause I make them laugh
And do ten press-ups in the bath.
(Every day, I'll have you know.)
(Johnny Worms, Aged 13 – From his unpublished collection of poems, "LUV TICKLES A BIT")
Welcome to the world of Johnny Casanova.
Johnny Casanova  – The unstoppable sex machine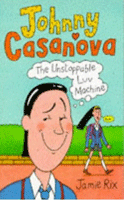 (Walker Books – ISBN 0-7445-9047-7)
Well so Johnny believes. His best friend Ginger may tell him that "girls is trouble", but when love's thunderbolt strikes in the form of Alison Mallinson or a beautiful vision in purple, what can Johnny do? Is it his fault he's irresistible?
The Changing Face of Johnny Casanova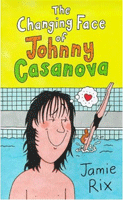 (Walker Books – ISBN 0-7445-9048-5)
A year older, a year… hairier, meet the all-new, all manly Johnny Casanova. He's got hordes of have-a-go hormones and he doesn't wear pyjamas! He could do without the spots though, especially when gorgeous Bosie Cricket cartwheels into his life and puts his heart in a spin. Could it be he'll finally get a snog?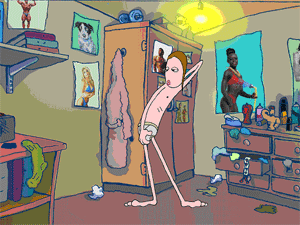 Did you know that Johnny Casanova has appeared on televison? As an animation. Have a look at these links if they are still working…
http://www.youtube.com/watch?v=2M-EwyIECJI
http://www.newgrounds.com/portal/view/287865
Walker Childrens Books: http://www.walkerbooks.co.uk/Jamie-Rix