PICTURE BOOKS
Giddy The Great!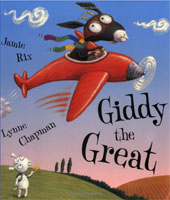 (ISBN 1-84362-682-9)
This is the sequel to Giddy Goat, in which Giddy Goat wants to be the greatest climber in the world. But one day he has to make a choice…winning the Giant Pinnacle Race or winning back his best friend. What is a goat to do?
Giddy Goat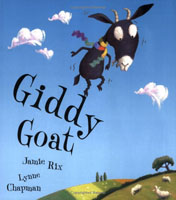 (ISBN 1-84362-283-1)
Being a mountain goat is no fun when you are scared of heights! An action-packed story of facing fears and making friends.
The Last Chocolate Biscuit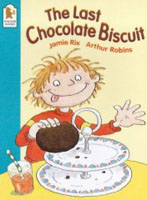 (ISBN 0-7445-7813-2)
When Maurice's mother tells him not to take the last chocolate biscuit until he's offered it to everyone else, he does exactly as he's told. He offers it to absolutely everyone. He even offers it to a space monster – and that's when the real fun begins!
If you live in America, this book is called; The Last Chocolate Cookie
Looking After Murphy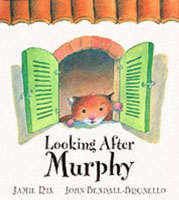 (ISBN 0-340-78798-8)
Granny Lally is looking after Murphy the hamster. Granny promises not to take her eyes off him, but looking after Murphy is a full-time job and something is bound to go wrong. A witty tale about every adult's worst fear; the lost pet!
FIRST READERS
Free The Whales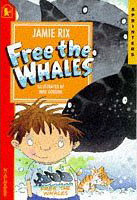 (ISBN 0-7445-5499-3)
Alistair McAlistair loves his Free The Whales T-shirt, He wears it all day and every day – until it starts to smell…and smell! But he won't let his mother wash it. Whales can't roam free in a washing machine, he says. The whales, though, have other ideas!
One Hot Penguin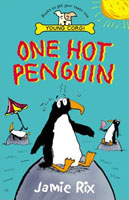 (ISBN 0-552-54737-9)
All over town it's boiling hot. At the zoo, the animals are dying for some ice cream. The warthogs are wilting, the parrots are parched and the snakes are sweating. And sitting beside a dried up pool is Whistler! When a small boy with large pockets visits the zoo, Whistler spots his chance to escape to a colder climate.
One Hot Pengun (Audio Book)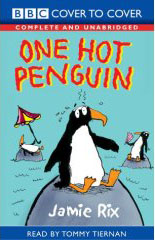 (ISBN 0-7540-6383-6)
The full story read by Tommy Tiernan
Mr Mumble's Fabulous Flybrows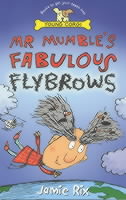 (ISBN 0-552-54737-6)
"Is it a bird?" "Is it a plane?" "No. It's a man with incredibly large eyebrows!"
Mr Mumble has the largest pair of eyebrows in the world. One day, a passing tornado lifts his eyebrows and gusts him skywards like a feather. Mr Mumble's flybrows now whisk round the world on a whistle-stop tour, but how is he to get down? His flybrows are out of control…
FOR OLDER READERS
The Incredible Luck of Alfie Puck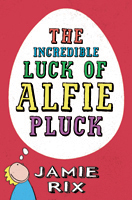 (ISBN 978 1 44400101 3)
Short-listed for the Roald Dahl Funny Prize 2010!
Alfie Pluck is the unluckiest boy alive… that is until he eats the chicken containing the highly sought-after luck gene. Now no end of people want him for their own devious deeds and crackpot schemes, because, let's face it, everyone needs a bit of luck. The only trouble is that to get the luck gene out of Alfie, someone has to eat his brain. Who will get to feast first? The Prime Minister, who wants him to help her win the election; Fox and his thieving tribe, who want him to rob a few banks and make their fortune; his cruel aunts want him to find them a husband each; or Dr Shard, the scientist who invented the luck gene and stood to profit from its sale around the world before Alfie stole it?
The chase is on, and Alfie quickly discovers that being the luckiest boy in the world is not lucky at all.
fatherchristmas.con!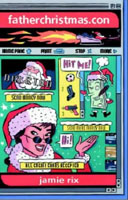 (ISBN 0-7445-9073-6)
OK people, listen up. Father Christmas has hung up his boots and retired to bed. From now on Christmas will be run by me, his badass daughter, Lara, over the internet web super information highway. Come to fatherchristmas.com for all your one-stop stocking shopping needs! Simply click here to choose from our wide range of six toys. BUY NOW while stocks last!
Never before has Christmas been so cheap!
The Fire In Henry Hooter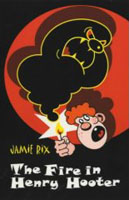 (ISBN 0-7445-5941-3)
Everyone knows to fight fire with fire, but how do you fight a fire demon?
When Henry Hooter's parents are killed in a freak accident at the Light Fantastic Firework Factory, eleven-year-old Henry is left alone with some burning questions. Like why is the fiery-tempered new owner of the factory so interested in the Howling Hullabaloo Howitzer, the last rocket invented by Henry's parents? Where have the town's children started disappearing to? And are there really such things as dragons and fire lakes? As the answers emerge and the sparks begin to fly, Henry wonders whether he's got himself involved in something that's just too hot to handle.
The Cool Guide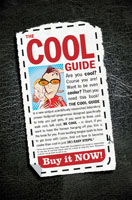 (ISBN 0-7445-9647-5)
The Cool Guide is a unique scientifically researched laboratory proven foolproof programme designed specifically to pull girls. If you want to think cool, walk cool, talk cool, BE cool – in short, if you want to have the honeys hanging off you, this is the book for you. From tackling tongue sushi to how to get busy with Lizzie, find out how to become cooler than cool in just sixteen and a half steps.
OUT OF PRINT
These titles have gone out of print, but don't worry. You can still buy the books online and your local library will definitely have copies.
The Dreaded Lurgie (Novel)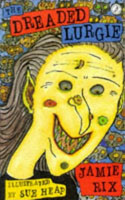 (ISBN 0-590-13363-2   &  ISBN 0-590-54097-1)
The nation's youth is under attack! Children everywhere are falling prey to the Dreaded Lurgie, an evil epidemic with sinister symptoms. It's horrible, but it's happening…the Dreaded Lurgie makes you old! Frank and Arthur know that something must be done. They are also convinced that the spread of the Lurgie is down to witchy Ma McCracken, infamous child-hater and their next-door neighbour. An antidote must be found to both these blights, or the nation's playgrounds will lie deserted… forever.
A. Stitch In Time   (Novel) Buy Now!  (ISBN 0-340-67055-X)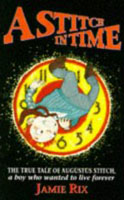 Time is running out for Augustus Stitch. Born on the 29th February, his birthday falls once every four years. While his friends live to be eighty, Augustus will die at the tender age of twenty. Desperate to deny death, Augustus decides to make himself immortal. Old Father Time warns him not to meddle – time waits for no man, not even Augustus Stitch. Or does it? Will Augustus ignore this crazy old man who lives in a cuckoo clock in the sky? Will he really be the first boy in the world to live forever?
The Vile Smile (First Reader)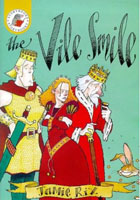 (ISBN 0-7500-2696-0)
Princess Viola is the grumpiest, nastiest princess ever. In fact, everyone calls her Princess Vile she's so horrid. But Princess Vile has the most beautiful smile that puts everyone under her spell. Prince Moneybags is so dazzled by her smile he asks her to marry him. But then the princess loses her smile. The kingdom is put on alert. The smile must be found, or no one will marry Princess Vile!
The Wizlets – "Wet! Wet! Wet!" (First Reader)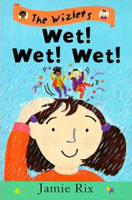 (ISBN 0-590-11353-4)
Raindrop and her friends have had enough. Brown Owl hates them and is making their lives a misery. But then help arrives – in the form of two mini magical mischief-makers – the Wizlets! With the wee-widdly wizards to help then, it is surely time for the girls to get their own back at last. The only trouble is, the Wizlets' spells don't always work quite as expected…
The Wizlets – "The Magic Waste-Goat" (First Reader)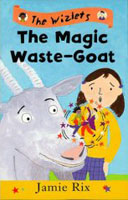 (ISBN 0-590-11354-2)
It's Sports Day time in Little Piddling – and things are looking bad for Raindrop and co. They've got no chance of beating the scouts, have they? Then the Wizlets come up with the answer. What the girls need is a lucky mascot. But not an ordinary mascot, of course. A goat. A crunching, munching, messy, magical goat with a real taste for mayhem! Suddenly Sports Day is one hundred per cent out of control…
Random House Children's Books
http://www.randomhouse.co.uk/catalog/authorcb.htm?authorID=104049
Walker Childrens Books
http://www.walkerbooks.co.uk/Jamie-Rix
Orion Childrens Books
http://www.orionbooks.co.uk/14013-0/Author-Jamie-Rix.htm